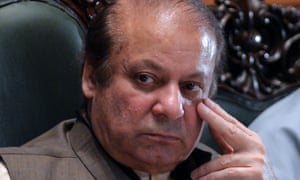 The former Pakistani prime minister Nawaz Sharif has been sentenced to 10 years in prison for corruption in a verdict likely to influence the general election on 25 July.
The National Accountability Bureau (NAB), Pakistan's anti-graft court, ruled that Sharif and his family laundered money in the 1990s to pay for four luxury apartments in Park Lane, central London, drawing on allegations that resurfaced in the Panama Papers leak, published by the Guardian and others in 2016.
The court also sentenced Sharif's daughter and presumed political heir, Maryam Nawaz Sharif, to seven years' imprisonment, fined the family £10m and ordered the seizure of the Avenfield properties.
"The Pakistani nation and the PML-N [Pakistani Muslim League (Nawaz), Sharif's party] reject this decision," Sharif's brother, Shahbaz Sharif, told reporters. "This is a dark chapter in the history of this country. There was no solid legal evidence in the entire case."
Sharif, who has been at the sickbed of his wife, Kulsoom Nawaz, in London, did not attend the hearing. The court earlier denied his request for a week-long delay to the verdict while she is on a respirator after treatment for throat cancer.
In July last year, the supreme court removed Sharif from office and ordered the NAB trial, before barring him from politics for life. The 68-year-old claims his legal troubles are the result of a military-backed conspiracy; allegedly in revenge for attempts to assert civilian control of foreign policy and put the former military dictator Gen Pervez Musharraf on trial for treason. It is expected that Sharif will launch an appeal.
The punishment of Maryam, who received an additional one-year sentence for presenting forged documents in court, may see control of the party shift to Shahbaz Sharif, who has pursued a more conciliatory approach with the army.
Sharif has long struggled to explain how the Avenfield flats came into his family's possession. Family members initially told different stories. During the NAB trial, his defence claimed that a Qatari investment fund gave the expensive properties to the family to repay a debt owed to Sharif's father. Commentators last year mocked a letter from a Qatari prince apparently testifying to that deal as a rabbit pulled out of a hat.